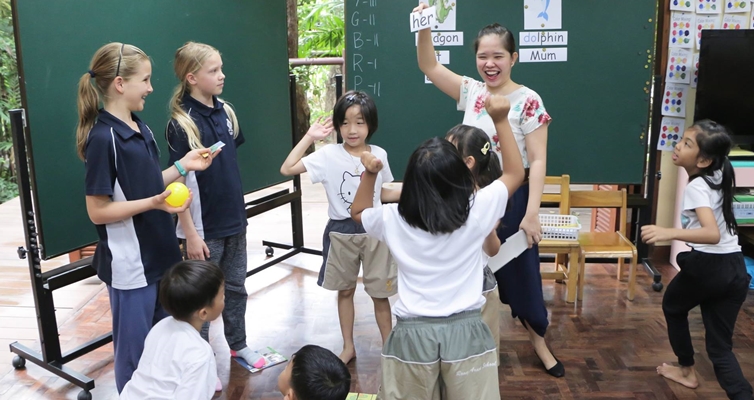 Story by T.CAROLE
Ten Grade 5 and 6 Tintern Grammar School students joined by their teachers Mrs. Anna Riddel, Head of Primary and Mrs. Jade Coby-Smith, class teacher, visited the RA campus for the next chapter of the cultural exchange after the Roong Aroon students had stayed with them in Melbourne, Australia in August.
All of the teachers and students in Grade 6 and 7 welcomed them. During their stay, the students joined several English project classes where they learned alongside the RA students, sharing some new ideas about water conservation and community. 
The Tintern students also helped prepare lunch. Our wonderful staff and teachers taught some special classes for them in cooking, Thai arts and crafts, Thai music and even Muay Thai boxing! During the trip, the students took excursions to see and learn about the turtle sanctuary in Rayong as well as the Elephant sanctuary and historic ruins of Ayutthaya. 
However, throughout the trip, the highlight was certainly becoming part of the Roong Aroon family during their homestay. Our parents took care of them with special trips in Bangkok and had them try all of the amazing Thai foods. The Tintern students and teachers were amazed at the wonderful hospitality of Thai culture and felt welcomed as part of the family!! Finally, at a potluck with food prepared by the families, the Tintern students shared a little bit of Australian culture with a game of 'Auzzie' slang, traditional songs and inspiring poems. Mr. Brad Fry, Principal of Tintern Grammar made the trip from Melbourne to meet our directors and join everyone for the farewell party as well. 
What a wonderful time together which has created lasting memories and friendships!
Charlotte Collins, Drishya Karthik, Sophia Li, Elise Mitchell, Elsje Van Vroonhoven, Laura De La Pierre, Brianna Jin, Samantha Wolstencroft, Alex Forbes, Krissada Gray